Diverse projects are keeping Hawai'i's construction industry busy and offering much-needed support for the state's fractured economy.
Those projects include hotel renovations, new and remodeled homes, county and state infrastructure efforts and military construction. Some architecture firms and contractors are even adding staff to keep up with the steady – and sometimes increased – workload.
"We are, I believe currently, a bit of a lifeline for the economy," says Bettina Mehnert, CEO of AHL, one of the state's largest architecture firms. "We're hiring. It's not just our firm, it's our competition as well. It's our industry right now that is able to continue to keep our employees and provide that backbone, that financial backbone, to many families. And that's important."
Another benefit of a healthy construction industry: Ongoing projects give people hope during this challenging time.
"People see it," she says. "There's something there, going on down the street, and seeing it's moving forward. And I think there's something emotionally important about this."
Resilient Industry
Economist Paul Brewbaker says Hawai'i's construction industry has been "remarkably resilient" during the pandemic. The number of natural resources, mining and construction jobs in the Islands between March and November 2020 has been relatively stable, fluctuating between roughly 36,000 and 38,000 positions, according to state Department of Business, Economic Development and Tourism monthly data. By comparison, the number of jobs in that sector dropped dramatically as a result of the last recession: from a peak of 40,000 at the end of 2007 to a low of 28,000 in early 2011.
Brewbaker says it helped that construction was allowed to continue during the pandemic, when other industries had to shut down, and that construction workers quickly implemented safety measures on job sites.
Number of Jobs
Construction jobs are included in a larger category that also includes jobs in natural resources and mining.

Source: "Monthly Economic Indicators Through December 2020," Hawai'i Department of Business, Economic Development and Tourism
Hawaiian Dredging Construction Co. requires employees to social distance, wear face coverings when not actively eating or drinking, and regularly clean and disinfect work areas, Mardi Miyamoto, the company's health, safety and environment manager, writes in an email. Anyone entering a work site has to complete a daily wellness checklist.
The company has been diligent about these measures, she writes, because there are tasks where social distancing is impossible, such as concrete pours and working in tight areas like elevator cores, manholes and electrical rooms. Construction crews can range in size from two people to 400, depending on the activity and type of project.
Josh Magno is the director of programs at Pacific Resource Partnership, a not-for-profit that represents the Hawaii Regional Council of Carpenters and over 240 contractors. He says there was a slight pause in construction activity when the state first shut down in March 2020. Activity picked up again once the industry was deemed essential, and many of the projects slated to start or continue in 2020 proceeded throughout the rest of the year.
Hawaiian Dredging, for example, has been working on such projects as the Kapa'a Stream Bridge replacement, the Nanakuli Health Care Center, phase two of the Hale Moena Kupuna apartment complex in Kapolei, the Kō'ula luxury condo at Ward Village, and The Central Ala Moana residential tower, writes Gerry Majkut, president of Hawaiian Dredging, in an email.
Nordic PCL has also been "surprisingly busy," writes Glen Kaneshige, the construction company's president, in an email. Its projects include the first-phase renovation of Central Pacific Bank's main branch, the Hawai'i Air National Guard's new F-22 Fighter Alert Facility at Joint Base Pearl Harbor-Hickam, the new Kihei High School and some resort projects.
He adds that most of these projects were under construction, with financial commitments already in place, when the pandemic started, so there was plenty of momentum to keep going.
"The State of Hawai'i and federal military projects had the funding allocation to proceed into construction," Kaneshige writes. "The private projects that started during the pandemic shutdown were not dependent on operational revenues in order to secure financing for construction. The large projects will take many months if not years to complete, so the owners or developers were willing to take the risk of starting their projects in anticipation that the pandemic will be gone when completed."
Despite the economic turmoil and uncertainty caused by the pandemic, Kaneshige's company and others, like G70 and AHL, have been hiring to keep up with their workloads.
"We're thankful for how things at least panned out through the year," says Charles Kaneshiro, president and COO of G70, a Honolulu-based firm of architects, civil engineers, interior designers and planners. "And I know it's not probably everybody's story but that was what happened for G70."
Brewbaker says it's important that construction continued largely unabated, but it's also not the only industry keeping Hawai'i's economy afloat. In the first three quarters of 2020, construction – including mining, quarrying, and oil and gas extraction – made up 6.2% of the state's GDP. That's almost the same size as health care and military, he says.
"Those are equally resilient and respectable shares of the economy," he says. "They stepped up. Health care definitely stepped up over the last year. And everything is related to everything. The point is it's important that you still were there, you were able to keep on going, you carried weight in a time when a lot of people couldn't."
Housing Remains Strong
Residential construction has long been the core of the state's construction industry and has continued strong during the pandemic, PRP's Magno says. He cites residential building activity in Kaka'ako, along the Kapi'olani Boulevard corridor and in West O'ahu.
"You look at the need for more not just affordable housing, affordable rentals, but just housing in general across the spectrum," he says. "We can't keep up and so I think in terms of residential being sort of that bright spot for us, it's an area of the industry where we can continue to rely on for work."
Even affordable housing projects have continued statewide. One of AHL's projects, Hale Makana O Ma'ili, a low-income rental housing complex, welcomed its first tenants in January, Mehnert says. The firm is also working on Hale Makana O Moiliili, which will provide 105 affordable rental units for kūpuna, and on the Halawa View Apartments. The second and third phases of the Halawa View project will add 302 affordable rental units, an internal courtyard and park space, and a pedestrian and bicycle path.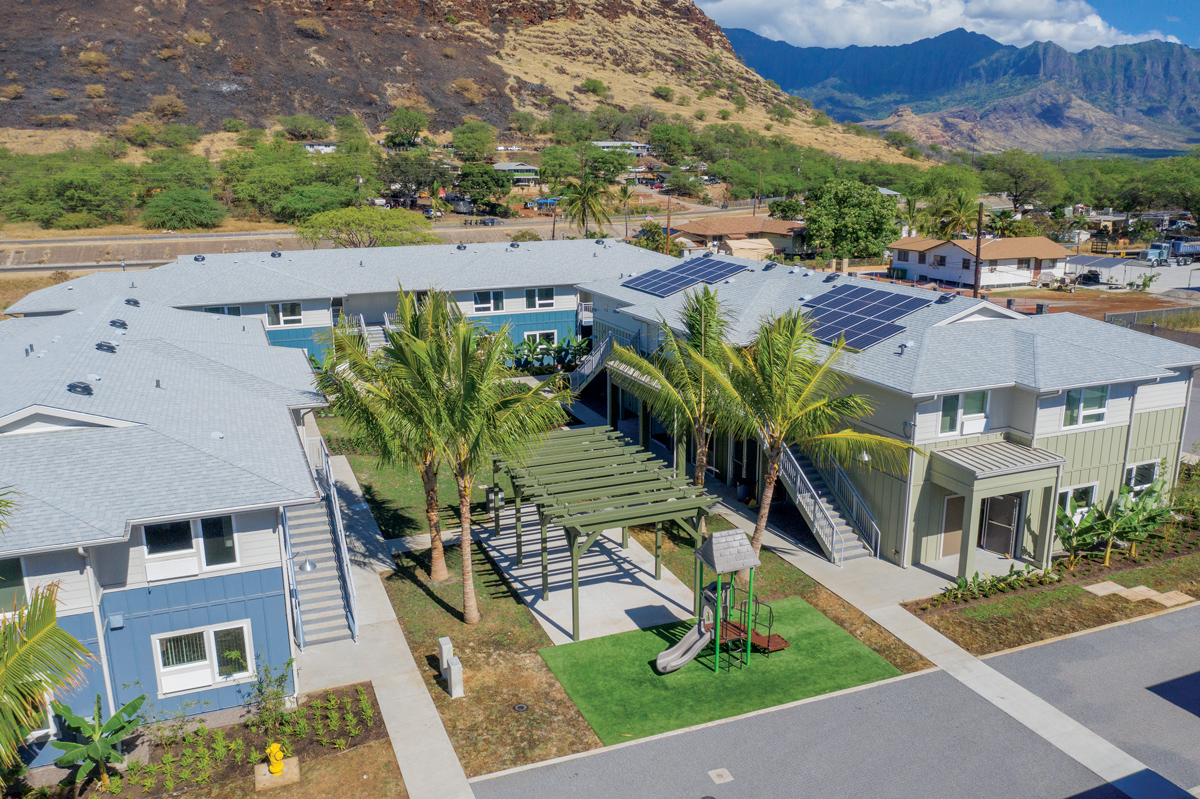 On Kaua'i, the Kealaula on Pua Loke supportive housing project, which provides stable housing and support services for formerly homeless people, in Līhu'e welcomed its first families at the end of 2020, and construction began on 75 acres of affordable housing in 'Ele'ele, writes Michael Dahilig, managing director, in an email.
G70's Kaneshiro says his firm also has several large affordable housing projects either in the planning stages or getting ready for design. He adds that transit-oriented development on O'ahu has been a game changer because it supports higher density development along the rail line. The affordable housing projects, he says, will be "great for the construction industry," as well as provide the community with affordable choices.
The continuation of residential construction also trickles down to lumber and building supply companies. Mark Schwinn, president of the Hawaii Lumber Products Association, says demand for lumber has increased statewide during the pandemic largely because people are reinvesting in their homes. The organization has about 30 members, including construction companies, lumber and building material suppliers, wood vendors, architects and designers.
Michael Fujimoto, executive chairman of HPM Building Supply, thinks the combination of the shut down and federal stimulus money gave people the time and opportunity to improve their homes. He adds that the home improvement sector nationally saw an increase in demand during the second half of 2020.
Resort, Institutional, Commercial Projects
Hospitality projects are also moving forward. Kaneshiro says larger resort clients are pursuing renovations while their hotels are empty or have fewer guests.
"A number of our resort clients are thinking out in the future, and I think they, as well as we, believe that Hawai'i is going to continue to be an extraordinarily strong resort destination for both Asia as well as domestic U.S. travel," he says.
Kaneshige writes that his company started seeing requests for proposals from several hotels once the 15-day trans-Pacific quarantine lifted in October. One of Nordic PCL's projects is a new four-story, 58,000-square-foot hotel for Host Hotels at the Andaz Maui at Wailea Resort, Kaneshige writes. The new building will have 19 luxury units. Another project is the redevelopment of the Kona Village Resort, which involves clearing the site for new construction of over 150 hale, support buildings and other amenities.
The expansion of Ko Olina led by China Oceanwide Holdings, a Chinese conglomerate, is also moving forward. The plan is to develop 2,500 homes in Kapolei West. Dean Uchida, director-designate of Honolulu's Department of Planning and Permitting, says his department is processing the company's grading and subdivision applications. China Oceanwide also has plans to build a 1,400-room Atlantis Hotel in Ko Olina. DPP approved a sewer connection permit for that project in September 2019.
Demand also increased for health care projects, Magno says. Kaiser Permanente is building additional facilities in Kapolei and The Queen's Medical Center is expanding its West O'ahu facilities. Majkut writes in an email that Hawaiian Dredging worked on the emergency construction of a COVID-19 dedicated infectious disease facility at The Queen's Medical Center in downtown Honolulu. That unit houses 24 single-patient rooms and features negative pressure technologies, continuous UV disinfection capability and double filter entrances and exits.
There's also ongoing construction work on new and existing school facilities. One of G70's larger projects is Kihei High School, which is being built on nearly 80 acres and will eventually serve 1,600 students. G70 worked on the environmental impact statement, county entitlements, infrastructure and interior designs. The project is currently in phase two, which is valued at $103 million and involves pouring the foundations and constructing the administration building, a library and cafeteria building, two classroom buildings and more. Nordic PCL is the contractor, and the school is designed to be the first net zero energy public high school in Hawai'i.
"It's a substantial enterprise that the state is undertaking, supporting a lot of subcontractors and vendors throughout the state with this work," Kaneshiro says.
AHL is also working on projects at Farrington and Moanalua high schools. Farrington is undergoing a nine-phase renovation, and Moanalua just completed its $30 million performing arts center, Mehnert says. She adds in an email that the Farrington project was placed on hold pending funding for the remaining design, permitting and construction administration.
One area that saw a decline was commercial projects, Magno says, with restaurant and retail renovations and expansions on hold.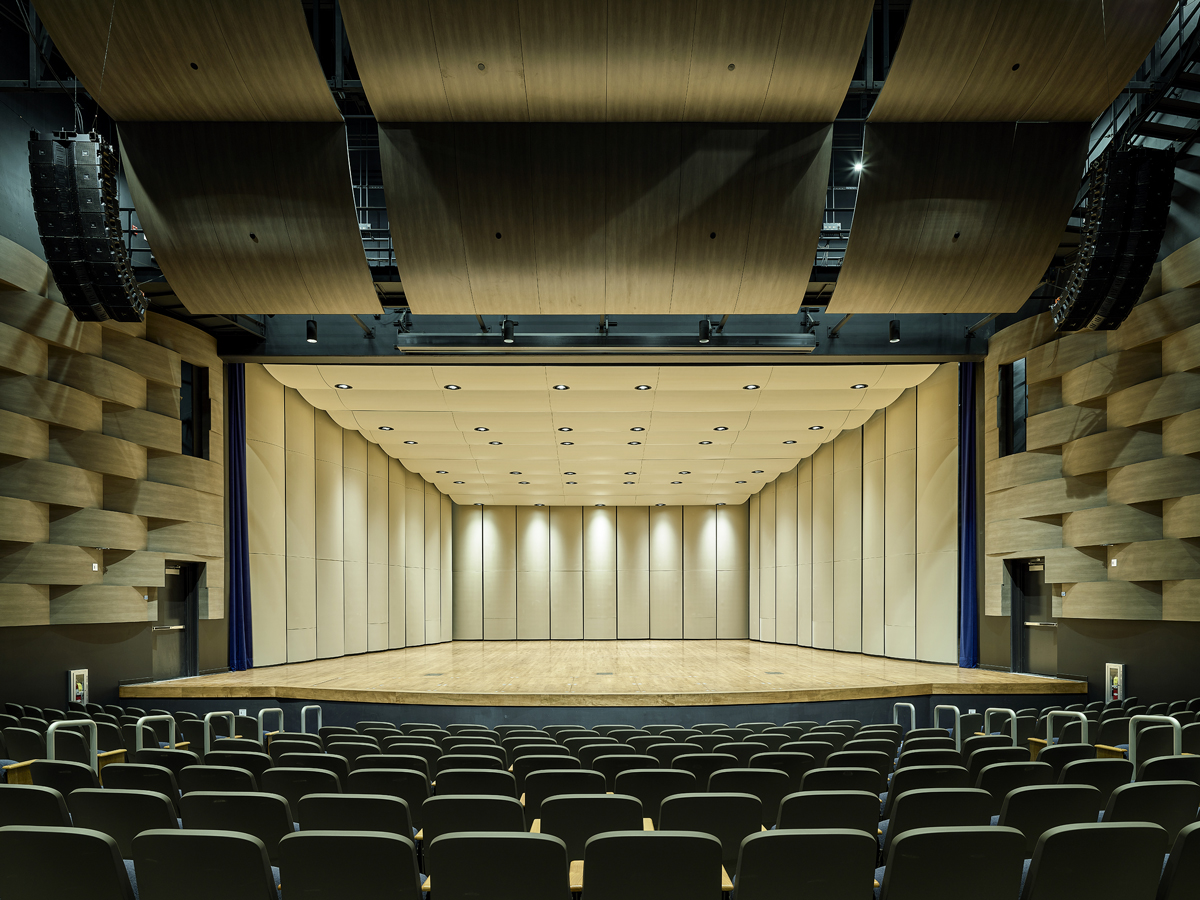 Moanalua High School Performing Arts Center. | Photo: courtesy of AHL
Infrastructure Projects
Public works projects continued to provide a lot of opportunities for the construction industry, Magno says.
"We have also not stopped pushing out public works improvements during the pandemic, with a number of infrastructure projects moving at a fast clip," writes Kaua'i County's Dahilig in an email. One of its larger projects is the infrastructure work for phase 1 of the Lima Ola affordable housing project in 'Ele'ele. The $15.8 million project includes complex grading and road, water, sewer and electrical infrastructure work, which will set the groundwork for about 150 future homes, he writes.
Projects List Breakdown

On O'ahu, the county is upgrading secondary treatment at the Honouliuli and Sand Island wastewater treatment plants. Uchida says the City and County of Honolulu's Department of Environmental Services has advertised $260 million for major construction projects during the second half of 2020 and plans to release another $550 million by April, he says.
Rail also continues to move forward. Much of the ongoing construction work focuses on the segment between Aloha Stadium and Middle Street. HART's contractor, Shimmick/ Traylor/Granite, will have about 4.3 miles out of its contracted 5.12 miles of guideway installed by March, writes Lori Kahikina, interim executive director of the Honolulu Authority for Rapid Transportation, in an email. Work also continues on the four stations in this segment.
She adds that construction hasn't necessarily stalled, but the pandemic does impact the project from time to time, slowing reviews and signoff s from HART's partners in some cases and adding to uncertainty about the availability of off -island staff who have to fly in to work. HART has also experienced some delays in the delivery of materials from off -island.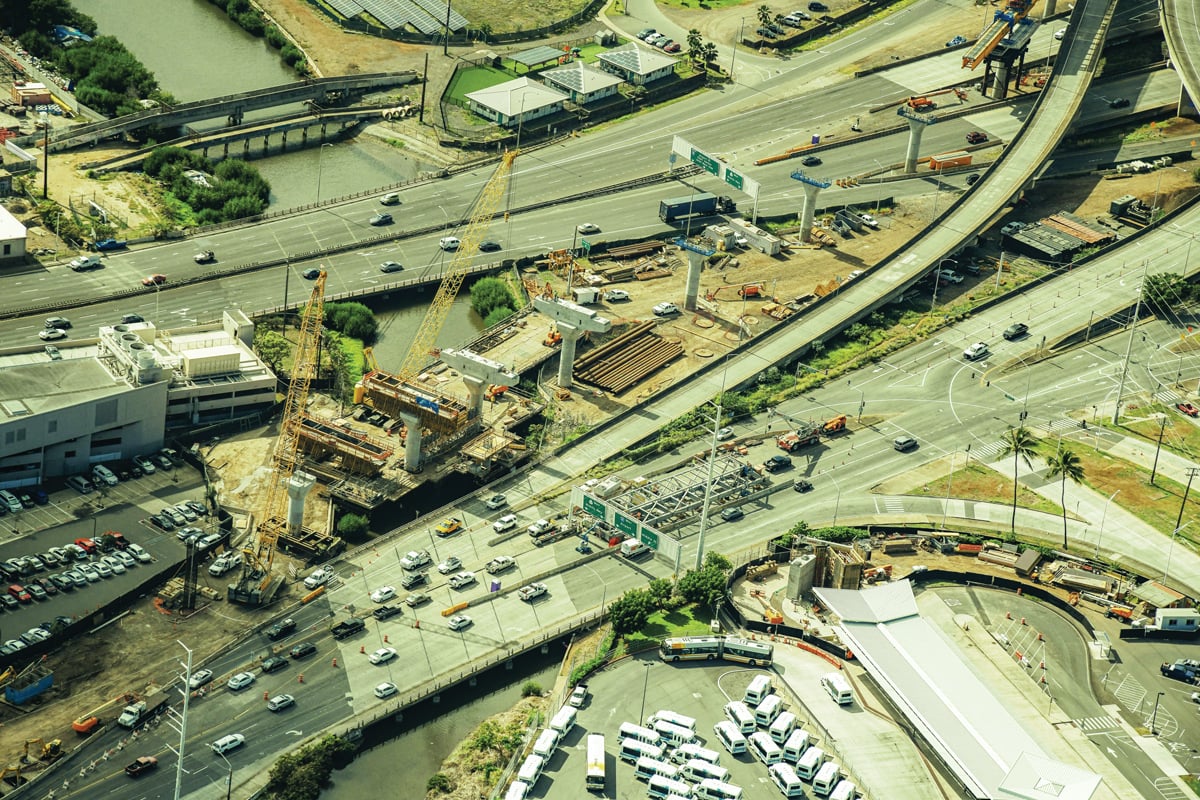 The first stage of the pedestrian bridge at Kahauiki Station (Middle Street Transit Center) was erected in January 2021. | Photo: courtesy of HART
AHL has several public works projects on the books, including the relocation and expansion of the O'ahu Community Correctional Center, which in 2018 was estimated to cost roughly $500 million; the $350 million New Aloha Stadium Entertainment District; and the $52 million Wahiawā Civic Center, which is expected to begin construction in June 2022.
The firm has also been busy with work outside of Hawai'i. AHL is part of a joint venture working on a new Marine Corps base in Guam. The contract is for up to five years and a maximum of $100 million.
Ongoing and Future Projects
This list is a sample of significant construction projects completed in 2020, plus ongoing and future projects (as of March 2021). It was compiled by Pacific Resource Partnership, with additional research by Hawaii Business Magazine. The information does not include all projects statewide.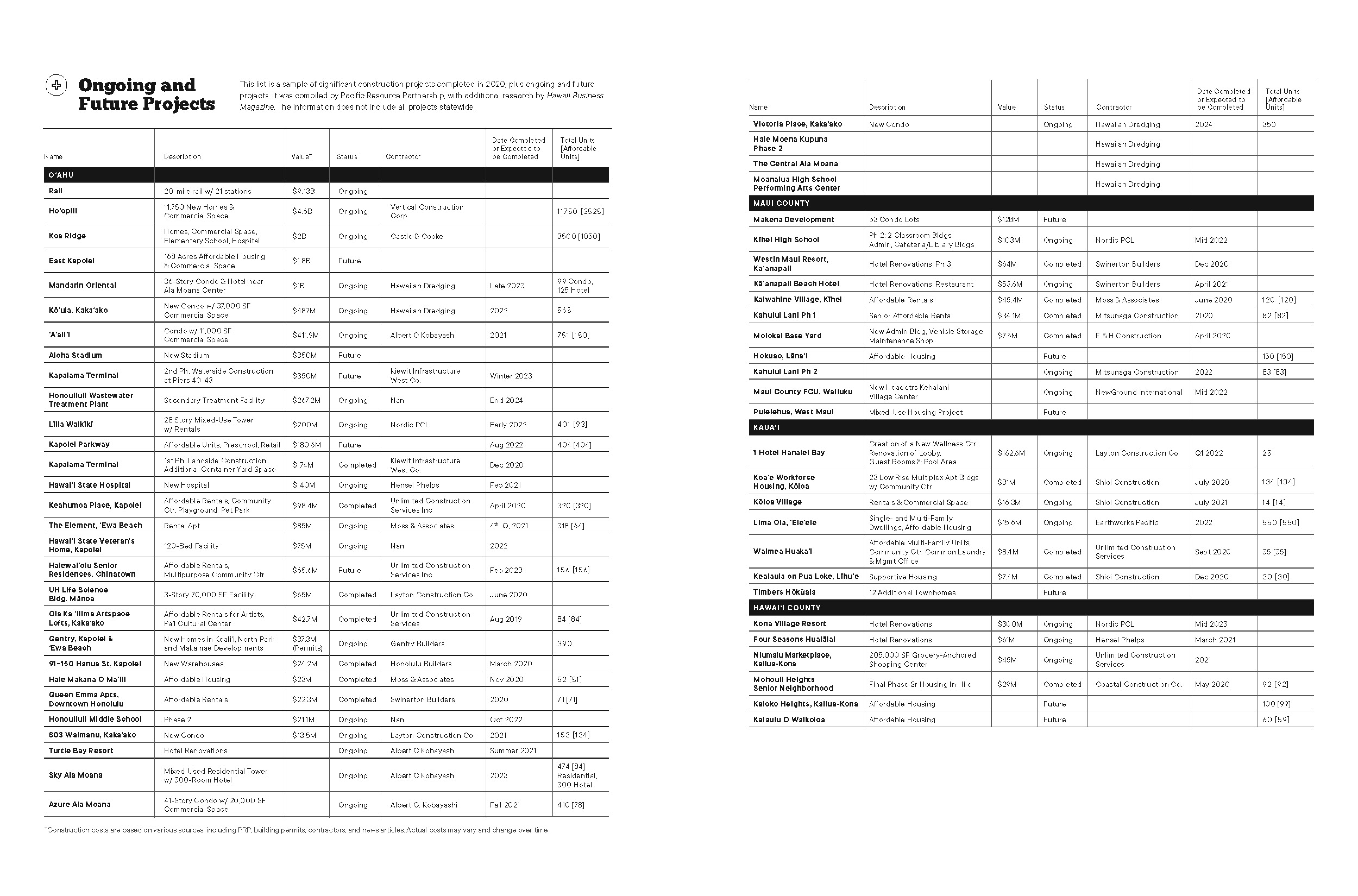 Click here to download the PDF >>
The Future
Kaneshiro says he is optimistic about the future.
"If you asked me six months ago, I was kind of nervous coming into 2021," he says. "When we were projecting (the next) six months, it was like, 'OK there's nothing in the cupboard now.' But between then and now there's been an extraordinary amount of activity and interest in affordable housing, multifamily market. There's been new resort interest both in renovation and new construction, there's been new federal work coming down."
Cyrus Johnasen, communications director for Hawai'i County, writes in an email that the county is focused on getting projects ready to bid so that they're set to go if or when federal stimulus money is received. Kaua'i County is also focusing on infusing much-needed dollars into the economy this year through capital improvement projects.
"We hope that this will help to bolster the momentum gained by the construction industry over the last year," Dahilig writes in an email.
The pandemic has caused the state government to grapple with an anticipated $1.4 billion shortfall per year for the next four years. Gov. David Ige's budget proposal, which was released in December, includes reductions in both the operating and capital improvement budgets for the next two fiscal years.
Brewbaker says public construction has typically been a source of resilience, and he would increase capital improvement spending, not decrease it, while borrowing costs are so low.
He anticipates there may be some challenges on the private side, such as for new housing projects. Hawai'i's population has declined for three consecutive years, and if that trend continues, the state won't need as many homes as it originally projected. In addition, homebuilding on the Neighbor Islands had already been trending down for several years.
Another challenge is that construction might continue to be impacted by supply chain disruptions, Kaneshige writes. He also anticipates the pandemic will complicate construction contracting because lawyers will craft language to reallocate the risks of costly delays if there's a future outbreak.
"Furthermore, the standard force majeure clauses in contracts provide time extensions to the contractor's performance without additional compensation while the owner would waive the right to claim damages for delays caused by neither party" and that could not have been known or reasonably anticipated, he writes. But now that a pandemic is a known risk on projects, new contracts may not provide similar relief to contractors under a force majeure clause, he says. That would leave contractors exposed to potential delay damages.