Blue Zones Project is partnering with employers across Hawai'i to create healthier work environments that empower employees to be happier, healthier and more productive. We invite employers, employees, and anyone interested in worksite well-being here in Hawai'i to check out our blog and newsletter topics that highlight Blue Zones Project Approved worksites on a periodic basis, along with helpful well-being resources that may be beneficial to your organization. 
What Hawaiʻi Worksites are Saying About the
RealAge Test and Interest Survey
It's not too late to gather the data you need to plan a genuinely engaging 2023 well-being program. This article showcases the value of Blue Zones Project's measurement tools and feedback received from three local worksites across Hawai'i: G70, Fukuji & Lum Physical Therapy, and Tori Richard.
Before we jump into their feedback, let's take a look at what the RealAge Test and Colleague Wellness Interest Survey actually are and how it can benefit your organization.
What's the RealAge Test?
The RealAge Test is Sharecare's clinically validated health risk assessment, offered for free as part of the Blue Zones Project program. The RealAge Test health assessment measures one's biological age compared with one's calendar or birth age. After completing the 15-minute survey, employees immediately receive their personal RealAge results with their biological age. Simply taking the test helps individuals better understand how their behaviors and health conditions affect their overall well-being. Employees also get access to optional, free, and personalized online resources to help them make healthy changes that will lower their biological age.
Employers with a minimum of 25 RealAge survey completions from employees will receive an aggregate report on workforce health conditions, risks and behaviors, as well as employee physical, social, purpose, community, and financial well-being. The RealAge Test provides a comprehensive picture to guide health and well-being investments for worksites.
What's the Colleague Wellness Interest Survey?
The Interest Survey measures your organization's interests in a variety of activities, so well-being program planners know what to prioritize to improve staff engagement, company culture and overall productivity.
Let's Hear from a Few of Our Approved Worksites
G70 is an architecture and design firm that completed the customizable Colleague Wellness Interest Survey in March. G70 Planner and GWell committee member, Noelle, shared the following:
Blue Zones Project's Interest Survey helped us revise our programming calendar for the rest of the year in a way that met the needs of our colleagues! The survey gave us an idea of what kinds of events employees would be interested in attending, as well as areas that our colleagues were eager to work on/learn more about. Their resources have also been very helpful! For example, we gauged from the survey that there was interest in a sleep workshop. Using Blue Zones' connections, we were able to hold one virtually in July that was well-attended. Pictured below are a few of the activities staff personally requested.
Several G70 staff and their families recently gathered for a workday at Papahana Kuaola in the ahupua'a of He'eia to learn, reconnect with the 'āina, and get a little muddy! Volunteers worked in the loʻi patch by pulling weeds, adding nutrients, and laying down ti leaf for natural weed suppression. This workday was the second event in a three-part "Aloha e Heʻeia" series organized by Nā Makamaka o Kou, G70's culture committee.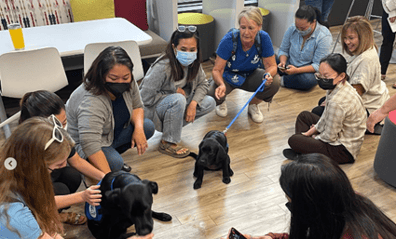 G70's Wellness Committee coordinated four-legged visitors from Assistance Dogs of Hawaii to stop by their office for some therapeutic fun!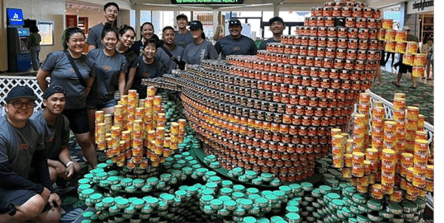 G70 staff participated in a CANstruction activity! Can-structures, made up of several thousand cans of food, were created and proceeds generated were donated directly to the Hawaii Food Bank.
---
FUKUJI & LUM PHYSICAL THERAPY completed both the RealAge Test and complementary Interest Survey in August. VP of Marketing and Promotions and Fukuji & Lum Well-Being Champion, Debbie, shared the following:
The RealAge Test definitely gave our company a greater insight into our staff's health and well-being in the workplace. Our overall well-being score was 68.7% and we are hoping to increase that percentage by improving current staff benefits and creating new well-being activities for our staff to participate in. We were pleased to see that the health assessment results showed that all of our staff members are healthy and are physically younger than their chronological age. The test also revealed that we need to pay more attention to our financial well-being, so we sent out an employee benefit survey to our staff which included questions on how important certain financial benefits were.
Our culture and well-being team called the NICE TRIBE, plans monthly activities and events and it was very helpful to know what specific activities pique staff's interests. Based on social activities that our staff most likely will participate in, it was nice to see that they are willing to volunteer and participate in community service projects and many were interested in cooking demonstrations. Our therapists recently volunteered at a health and wellness fair in Kaneohe to educate the community about the benefits of physical therapy. This month we are doing a Socks for Seniors Drive, collecting socks for kupuna in need. We are also developing a Community Outreach Program (COP) that will provide various wellness and exercise classes (yoga, strength training, martial arts) to staff and community.
Overall, the RealAge Test and Interest Survey were great contributors to our company's well-being program as we now have a better understanding of our staff's health and well-being needs. We will continue to strive to improve our scores with new and exciting initiatives throughout the year that will help our staff live happy and healthy lives!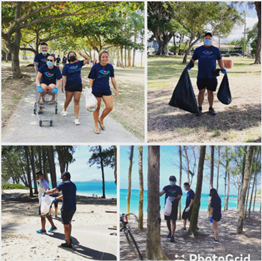 Fukuji & Lum employees were interested in volunteering in their community, so they decided to do a beach clean-up at Kailua Beach Park, among other activities.
---
TORI RICHARD completed the RealAge Test this summer. The company's employee-led committees, The Good Life (TGL) and Corporate Citizenship Council (CCC), shared the following:
The RealAge testing allowed us to get feedback from employees on an individual level and will allow us to modify and strengthen for improved employee wellness in the future. TGL is working toward implementing the findings (risk factors, well-being percentages, etc.) into the strategic plan for 2023 and beyond.
April, Textile Designer and CCC leader, said:
I would say that our RealAge Test insights revealed that though our employees are healthy socially and community-wise, it's meaningful to know that we are in need of some stress relief. It has been a steady recovery since Covid. In terms of actionable items, we can turn our efforts with the CCC and TGL to initiatives that reward and lift spirits, such as social events for fun, family-friendly events, potlucks, and employee recognition. HR is already working hard to hire more people to ease our demanding workload.
Pictured below are a few activities that were hosted, based on feedback from the Interest Survey.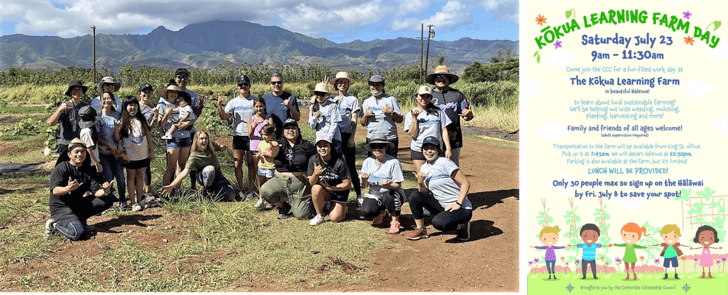 A combination of activities have been hosted for staff, including volunteer activities, cooking demonstrations, and there's an outdoor garden and activity area that encourages natural movement throughout the day.
If your worksite is interested in completing a RealAge campaign and/or Interest Survey to support your well-being programing in 2023, please email [email protected].
---
JOIN THE WELL-BEING MOVEMENT!
To learn more about incorporating well-being in your workplace, email [email protected].
Email our team to learn more about partnering with us to make healthy choices easier at your worksite, school, grocery store, restaurant, or faith-based organization.
Check out all participating organizations.

Sign up to receive community updates!
Learn more at www.bzphawaii.com